It can be tough to keep up with the constant evolution of the construction industry as it grows. There is one thing that's certain, however: it's always growing. In Colorado alone, we've seen a 1.4 percent increase in residents since 2017, which equates to about 75,000 people. This means residential and commercial construction is quickly growing.
Alongside the growth in Colorado over the last few years, there are some trends we expect to emerge in 2018. These include reprioritizing safety, increasing environmental sustainability, implementing better technology, and incorporating more off-site construction solutions. Read on to learn more!
Construction Industry Trends
Safety is a priority
It's no surprise that safety is a top priority for construction in general. For large sites that require heavy machinery, safety is the primary focus. However, 2018 is showing a greater focus on safety across all of construction. In Colorado alone, safety regulations have become more strict to increase the safety of workers and operators. Although these changes do slow project completion times, we're excited to see the government and the state taking safety as seriously as we do.
Environmental impact and sustainability
In recent years, conversation has circled how new construction impacts the environment. As the conversation continues, we see the trend to protect the environment as an ever-increasing priority. At Claystone Construction, we focus on environmental sustainability with our reclamation and excavation services. How do we cause little to no effect on the environment while still achieving our project goals? We ask this question at every project planning meeting and do our best to ensure our efforts during a project are safe, clean, and help sustain the environment.
Technology innovation and advancement
We cannot deny that we're in the "information" age, which means technological innovation and advancement is ever-present. Throughout the entire construction industry, drones, 3D imaging, 3D printing, and autonomous machinery are being used to complete projects. Our mission as contractors is to guarantee the safety of our workers and operators while integrating these great advancements. We see more technology being injected into our day-to-day processes.
Off-site construction is growing in popularity
We're seeing more land developers and home builders using off-site construction to supplement their projects to decrease time-to-completion and increase safety for workers. As excavation contractors, Claystone sees this as a huge positive for the industry. The safer we can make sites, the better it is for everyone.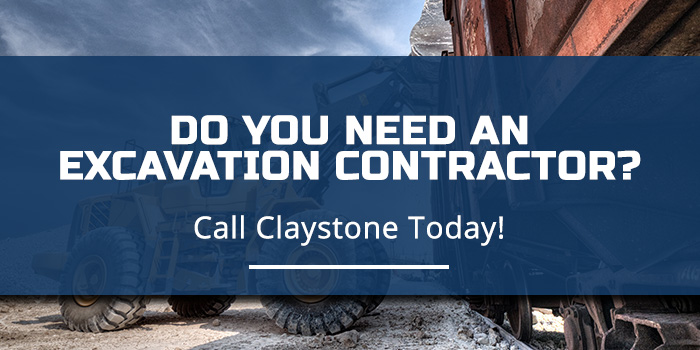 60 Years of Construction Done Right
We've been helping build Colorado since 2003, and our founders have been in the industry for more than 60 years. When it comes to trends, we've got our finger on the pulse of the industry. If you're a land developer or in need of excavation services in Denver, give us a call.
We're always looking to foster professional relationships with other contractors and project managers. Our focus is on safe, efficient excavation and reclamation practices to meet deadlines in a timely manner. If you want construction done right, choose Claystone.