There are a number of heavy machines that can be used on residential and commercial land development projects, including excavators, bulldozers, graders, and scrapers. To operate any of one of these machines, an individual will need to complete a considerable amount of training. That training includes safety protocols, awareness, and best practices. At Claystone Construction, we take safety seriously, and when it comes to large projects with multiple contractors managing various portions of development, a safe work environment is imperative.
In this post, we'll share some safety tips all heavy machine operators can use to decrease the chance of hazards while increasing operational safety.
Excavation Safety Tips
Take your time
When you're operating heavy machinery, do not rush. The safety of you, your colleagues, and others around you is more important than rushing towards the completion of the job. People tend to not realize that heavy machinery operation is not a fast process. It takes time. More time than most would like, but rushing the use of heavy machinery is a leading cause in construction site injuries.
Routinely inspect the machinery
Deadlines can influence operators and mechanics to skip routine maintenance in order to stay on track to complete the job or to get to the next job more quickly. Faulty equipment causes accidents on job sites, and it can be prevented. All machinery should be thoroughly inspected before use, and if a machine faults during a job, it needs to be inspected, removed, and repaired before continuing use.
Communication is key
On a construction site with heavy machinery, constant communication should be the standard. Injury and hazards occur when communication ceases. As machines move around the job site and workers move from one place to another, they all need to be on the same page. Communication helps prevent risks, and keeps everyone safer.
Morning safety meetings
In most cases, the safety manager will have morning safety meetings to ensure all contractors, workers, and operators are on the same page. If a certain section of the job site will be congested, everyone needs to be aware that they're not the only ones in the area. Predefined travel paths for machinery need be defined. Safety check protocols need to be reviewed. The safety of everyone on the site is a priority.
Follow established safety systems
If you're operating heavy machinery on a job site, you most likely have a safety system or protocols to follow. Make sure that you're aware of what this system is and how it works. How you cut back a slope, grade a road, and transport a load of fill is important. Follow predetermined site-routes for heavy equipment and always communicate with those around you.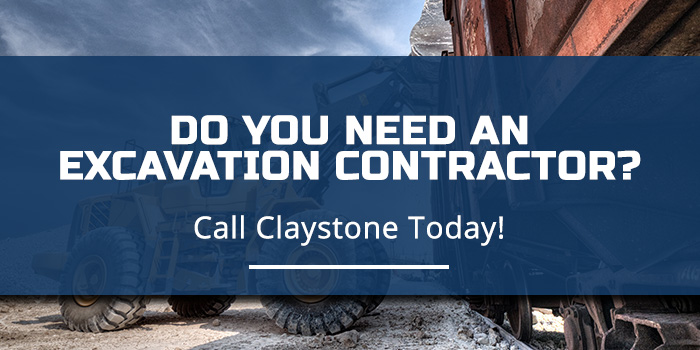 Denver Construction Done Right
Claystone Construction has been providing the Colorado Rocky Mountain Region with excavation, reclamation, and mining contractor services since 2003. Our founders have more than 60 years of combined experience in the industry. With every project comes an opportunity to build professional relationships with contractors to continue building Colorado together.
If you're in need of contracting services, give us a call today!