Spring is upon us in Colorado. We still have yet to escape the occasional snowfall, but the rain is here. As we continue through the year, the temperature will steadily rise, and we'll see less rain. Until then, how does Spring rain affect construction sites? Do you need to prepare the site and workers for the weather? At Claystone Construction, we believe a prevention plan is paramount to a successful road construction project. Our Denver projects are successful because we plan ahead for the weather.
In this post, we'll share some tips on how you can prepare your road construction project for impending spring weather, keep your workers safe, and continue to make progress towards project completion.
How To Prepare Road Construction Projects For The Rain
It's important to always have a plan for when the weather turns from good to bad. At Claystone Construction, we believe prevention is the first step towards ensuring the safety of the entire construction site.
Make sure to wear protective gear and clothing
Although rain is usually harmless on its own, it can cause conditions that impede on the safety of workers and the site as a whole. Waterproof protective gear keep the workers from becoming drenched, which reduces the chance of worsening working conditions that lead to mistakes and injury. In some cases, rain is unavoidable and everyone has to work in it. Make sure their gear and clothing is highly visible and the tread on boots are high traction. Keep open lines of communication across the site in case of potential hazards.
Rain causes slippery slopes
A small slope, which workers have been using all day to get from point A to point B, can turn into a slip-and-slide. When it comes to site safety, rain can change how workers and machinery access various areas. Make sure that if there is rain, safe paths are designated for machinery and workers to use to minimize potential slippage. If there is a danger of potential injury, it may be time to shut down for a few hours to ensure the safety of everyone.
Watch out for lightning
Thunderstorms tend to bring lightning, which is a safety hazard for road construction in Denver. The heavy machinery, various operation bases and other equipment has a chance to get struck by lightning. In the event of a thunderstorm, make sure workers are safe, equipment is shut down, and the site is cleared. It's important to have an evacuation plan in case lightning does cause a safety hazard for your site.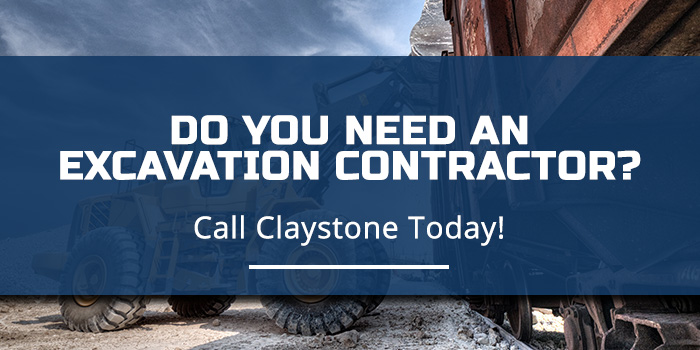 Claystone Construction: 60 Years of Excavation, Reclamation, and Mining Experience
We've been helping build Colorado since 2003. The founders of Claystone Construction have an accumulated 60 years of experience in the excavation, reclamation, and mining industries. When it comes to professional, excellent contracting services in Denver, we're the company to call. We're based out of Fort Lupton, but we've completed large projects in Colorado Springs, Denver, Fort Collins, and beyond. Do you need an excavation or reclamation contractor? Give us a call today!