If you're developing land or preparing a site prior to a warehouse or subdivisions being built, it's important to understand that sitework is a crucial piece to the success of your project. No amount of blueprints and planning will successfully prepare a site for construction. What you need is a top excavation company to get your site ready for utilities, foundations, structures, and more. In this post, Claystone Construction will share why sitework is important and how you can find an excavating company near you.
What Is Involved With Sitework?
There are many preparations involved in sitework. The ultimate goal is to make sure that the land is prepared properly to uphold structures and other construction features safely for a long time. Here is what's involved in sitework:
Land Clearing
Initially, the land will be assessed. The goal here is to determine how much of the raw land needs to be cleared, including shrubbery, trees, and other above-ground vegetation. Depending on the site location there may be environmental processes to go through to successfully clear the land and begin preparing it for construction.
Stabilizing The Subgrade
Once the vegetation is cleared, the topsoil and all levels below need to be assessed and stabilized. Structures and other utility features will be built into this land. It's best to make sure that all levels of soil involved can last for years to come, because you do not want cave-ins or shifts that can ruin the construction long after the excavation company is gone.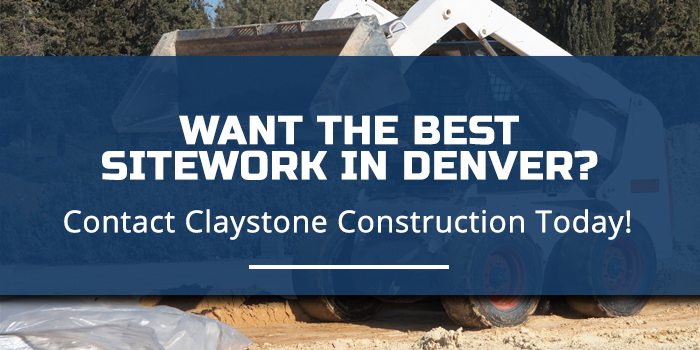 Erosion Control
Weathering, erosion, and collapse can be huge issues for construction sites. Once the soil is stabilized, your excavation company will shore up the site so that erosion is not an issue as you build or long after your project is complete.
Heavy-Haul Roads
For large-scale residential and commercial excavation projects, heavy-haul roads are a necessary feature to keep the excavation process moving forward. As soil, rock, and more is removed, it needs to go somewhere. That's why access or service roads to-and-from the construction site and throughout the construction site are essential to the success of the project. The construction of a heavy haul road is carefully planned and executed based on the expected loads it will carry throughout the course of the project.
Site Excavation
Your site will need some kind of excavation to prepare it for eventual construction. Excavation involves earthmoving, rock removal, soil management, and more. This specific piece of sitework is intensive and requires a professional excavation company to handle if you want the job done right.
Water and Drainage Systems
Finally, your excavation company will excavate water and drainage systems so that stormwater and otherwise can be redirected away from the site. This stage is the last five percent of sitework. It's what makes your land look pristine and finished so that construction can begin without any excavation-related issues. Water systems also allow for water to be brought onto the development site for use.
Are you ready to get started on your excavation project? Give Claystone Construction a call today to get the job done right!